Golf For All Coaching Programme
Our Golf for All Coaching Programme provides a series of 12 golf sessions for less fortunate kids who have the desire to learn the game of golf and experience this amazing sport without the overheads.
We teach the kids a range of basic golf skills in a fun and active style. Our aim is to:
Promote junior golf
Promote the values of courtesy, honesty, and respect for others
Promote sportsmanship, taking personal responsibility, perseverance and the building of self-confidence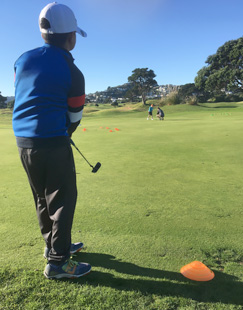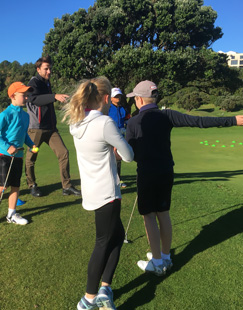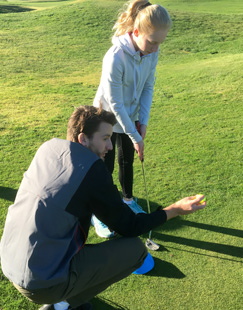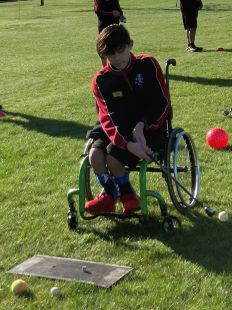 Excerpts From A Typical Coaching Session
Junior Lesson Plan
Minimum of one professional coach and one volunteer for every 15 Juniors is required for health and safety purposes and for optimal learning of the skills and technique
Session Break Down
First five minutes recapping previous week
Next 55 minutes going over the week's exercise, rules and etiquette

During the first term, juniors need to master the four basic swings

Putt
Chip
Pitch
Full swing

With all of the swings, need to master GASS components

Grip
Aim/alignment
Stance
Swing

SAFETY is always first with all sessions. Please stress this at the start of every session
1 – On the putting green
Items needed

Putters, balls, tour rods and tees

Technique

Putting going over the correct grip, stance, posture and alignment

Games

Humpty Dumpty and Battle Ships

Rules and Etiquette

Play the Safety Game

Team Challenge

Split the teams into two groups and play Team Humpty Dumpty
2 – On course around the green
Items needed

Wedge, balls and cones

Technique

Correct full swing grip, robot feet, ball position—back foot—front pocket and swing below the knees

Games

Humpty Dumpty and Battle Ships

Rules and Etiquette

Be quiet, consideration for other players whilst they are hitting, play the Safety Game

Team Challenge

Split into two groups, each group takes one shot at a time, the team with the most balls in the target zone wins
Testimonial
Over 4500 kids have now been coached in the Wellington and Kapiti area.
Schools and colleges include: Kelson School, Kenakena School, Otaki School, Paraparaumu Beach School, Rongotai College Wellington, St Joseph's School Levin, St Patricks College Silverstream, Waitohu School Otaki.
Our feedback is very positive:
Thanks for your coaching sessions. The proof of outcomes of your programme was in the students attending last night!! Well done. Testimonial ➔
We would like to thank the Kiwi Golf Development Foundation for allowing our students to gain exposure to the sport of golf and providing an opportunity to work with a local organisation within our community. Testimonial ➔